The Puzzled One - Custom Designed Unity Puzzles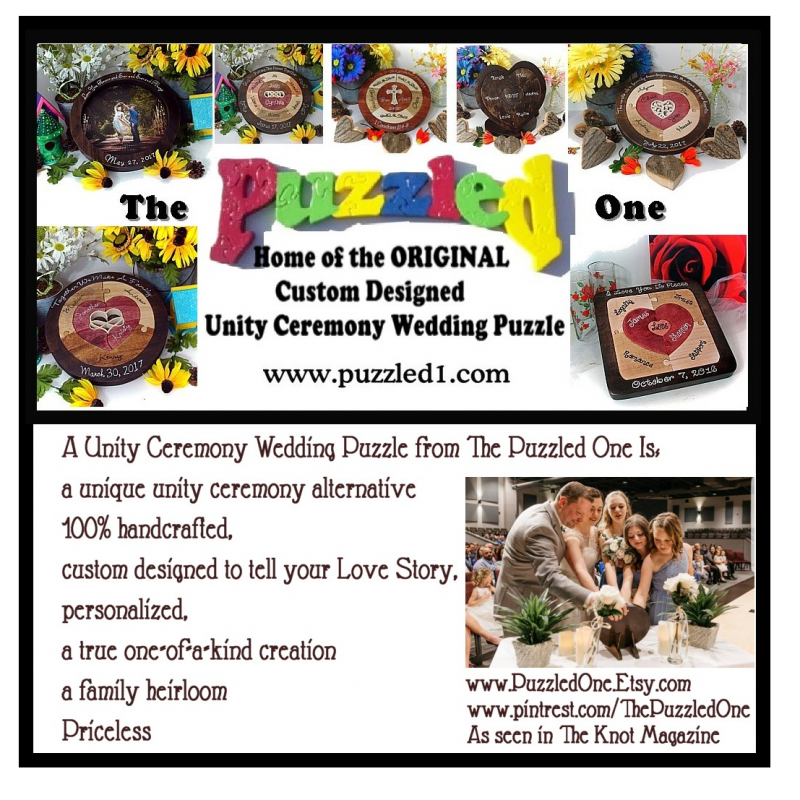 The Puzzled One - Custom Designed Unity Puzzles
21621 21621 hiawatha st, chatsworth 91311, California
Custom Designed Unity Ceremony Wedding Puzzles
Family Heirloom Puzzles
A Unity Puzzle Ceremony is a unique alternative Unity Ceremony.  For couples it tells your love story it represents who you are as a couple and symbolizes that your two lives have now become one newly formed family.  For blended families a unity puzzle celebrates the uniting of two loving families.  It has pieces that are different shapes and sizes just as each family member is unique with their own special qualities.  But once the puzzle is complete, with each family member in place, it not only creates a beautiful picture but a beautiful and complete family. 
Not only do these make great wedding gifts but they are also perfect gifts for:
Christmas, anniversaries, Mother's day, Father's Day, Birthdays, adoption ceremonies and more!
A Unity Ceremony Wedding Puzzle from The Puzzled One Is:
100% Handcrafted with Love,
Custom Designed Just For You,
Personalized to tell your Love Story,
A True One-of-a-Kind Creation Celebrating Who You Are as a Couple,
A Family Heirloom that can be Passed Down through the Generations
PRICELESS
Here's what some of my customers have to say: 
We couldn't be happier with our puzzle. We were looking for something for our newly blended family & wanted to give the children a special part in the wedding. Jeannette knew exactly what to make. Our children walked us down the aisle & placed their puzzle piece in the tray & when it was time for us to do the typical unity candle, we placed our names in the puzzle & completed our new family. The kids were thrilled to have such a special part in the wedding & our youngest said - how the puzzle made it official - we are one big family. We have this hanging in our family room today & every time I look at it, I get teary eyed thinking of how this puzzle completed our wedding with our kids. Thanks Jeannette - you are the best!!!
Thank you! Thank you! Thank you! I can't begin to thank you enough for the time you took to learn about our love story to help create the perfect piece for our marriage ceremony. I was so pleasantly surprised that you also included the two removable cat pieces. What an amazing touch! I shared such personal details with you and you took my story and created such a beautiful keepsake. From the bottom of all of our hearts (husband, two cats, 3 kids) we thank you for sharing your talents with us in the creation of a timeless family piece.
Jeanette made a wonderfully unique puzzle for us with 8 words that represented each of our Honor Attendees that they wrote passages to ready during our wedding ceremony. I was trying to find a way to incorporate all of my best friends into our big day and this was the perfect way! We can't thank you enough Jeanette for designing this beautiful puzzle that will always be a great reminder of the greatest day! Thank you for helping make it great!
Establishment year:

2007

Keywords:
21621 21621 hiawatha st, chatsworth 91311, California
Link to Social Media Profiles