Face The Music DJs & Booking Agency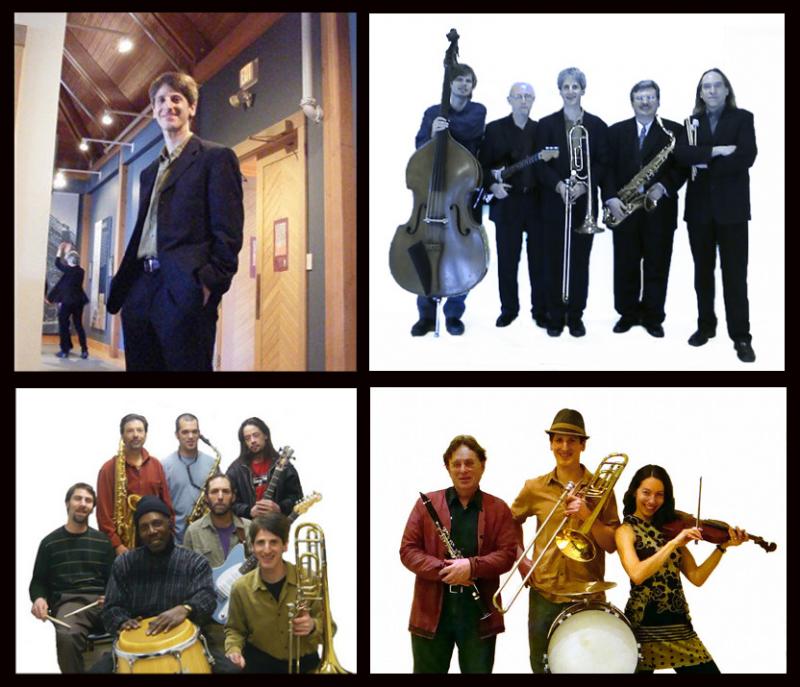 Face The Music DJs & Booking Agency
Shutesbury, Massachusetts
Face The Music Agency is a New England-based booking agency that provides live music and DJs for weddings, bar/bat mitzvahs, anniversaries, corporate events, festivals, schools and colleges, concerts, coffee houses, and other special events. 

Face The Music DJs
Looking for a DJ instead of a band?
Or a DJ + Band package?


New Groove
5-piece band plays Pop, Motown,
Rock, Blues, R&B, Soul, Latin, Reggae, etc.
THE PERFECT WEDDING BAND!

Black Tie Affair
R&B, Motown, Soul, Pop, Rock, Jazz, Swing,
Disco, Oldies, Funk, Reggae, Blues, and more
ALSO THE PERFECT WEDDING BAND!


Time After Time
R&B, Motown, Soul, Rock, Jazz, Swing,
Funk, Reggae, Blues, Klezmer, Classical
ALSO THE PERFECT WEDDING BAND!


Butterfly Swing Band
Classic Swing Dance Music
from the 20's, 30's & 40's


The Yiddishkeit Klezmer Ensemble
Traditional Eastern European Jewish Folk Music


Fiddle Hill
Traditional Fiddle Music
(Celtic, Irish, French-Canadian,
Scottish, New England)

The Pangeans
Latin Jazz/Samba/Reggae
Calypso/Soca/African/Funk

The Brian Bender Jazz Group
Swing/Blues/Ballads/Bossa Nova/Latin


The Gumbo Jumbo Dixieland Band
Do you know what it means
....to miss New Orleans?


The World Beatniks
Latin Jazz/Samba/Reggae/Calypso
Soca/Middle Eastern/Klezmer


The Riddim Makers
Original and Classic Reggae Music


Little Shop of Horas
Original and traditional Jewish music blended
with Latin Jazz, Reggae, Calypso, Middle Eastern


Beans and Rice
Blues/Jazz/Funk/Reggae


Don't see what you're looking for?

We also book solo instruments (violin, piano, harp, guitar, etc.), duos, trios, quartets, as well as many other bands not listed here. Just tell us what you're looking for and we'll let you know if we can provide it.

We can provide a DJ for your event instead of a band, or in addition to a band. Just ask and we can provide more info!

We serve the following areas:
Massachusetts (MA)
New Hampshire (NH)
Connecticut (CT)
Vermont (VT)
Rhode Island (RI)
New York (NY)
 
-- TESTIMONIALS --
"We hired The Black Tie Affair for our wedding and must say the experience was so easy, the responsiveness was on point and the quality of music was exceptional. This band kept our guests on the dance floor the entire night. The caliber of talent within this band was impressive., both instruments and vocals. They interacted with the guests and really made a memorable night for us all. From the moment we reached out to the band they were extremely professional and I could tell that they wanted to do whatever they could to make our night special. We will most definitely hire this band again in the future and hope who ever reads this is able to experience what we were able to with The Black Tie Affair. "
-- Ashley Crete (Westbrook, CT)

"Brian was absolutely perfect for our wedding. As my partner and I have totally different tastes, we wanted something that incorporated both of us and Brian was 100% willing to do that - he played jazz piano during our brunch reception, and then transitioned into classic party DJ music for the later portion of the reception. He took all of our requests very well, and was very easy to work with. When some guests made requests that went against our desires (line dances, gross!), Brian thoughtfully checked in with us before playing them, and of course he maintained the dance vibe of the party. He is adaptable, friendly, easy to work with, very good as a musician, professional, and budget-friendly. I can't recommend him enough."
-- Elizabeth Harwood (Glastonbury, CT)

"We hired Brian Bender of Face the Music DJs and honestly, it could not have been more perfect. He was super attentive to our needs, super laid back, super understanding and extremely amazing in every aspect of the night. Brian met with us immediately and put together an epic song list in not much time. He played piano expertly early on, and even broke out a trombone later in the evening. He has a great feel for the crowd and DJs accordingly to their wants and needs. He was a great announcer and drifted around the room, patiently, as speeches got carried away. So beyond grateful we chose him for our wedding day, it was super special!!!"
-- Whitney Frost (Great Barrington, MA)

"The band was great. They kept everyone dancing, but without doing it in an overdone or cheesy way. They're some of the best musicians around, and they're also performers that will work with your crowd in a good way. As far as the repertoire goes, they can really do anything, so just tell them what you want. So, to make a long story short - two thumbs up from the bride and groom!"
-- Dirk Litzner and Cayla Moran (Cape Cod, MA)

"DJ Brian was so laid back and easy to work with. He has a long list of available music and recommended playlists, but I asked for a completely custom playlist within a few weeks of the wedding and he made it happen. He also played jazz piano during the cocktail hour to create a bubbly ambiance without making it difficult for guests to talk and mingle. Everyone raved at how great he was!"
-- Michelle Accardi (West Brookfield, MA)

"The band ROCKED our party!  We couldn't stop dancing!   Everyone, young and old, LOVED the music!  Thank you for being so flexible and willing to work with our needs.  We loved the fact that the band was able to provide recorded music during breaks.  The caliber of the music was top-notch.  The band was incredibly talented and 100% professional.  We would hire them again in a second!"
--Tobi Sznajderman and Joel Harris (Amherst, MA)

"DJ Brian was fabulous! He had a huge smile at every moment and completely ran with every turn the party took."
--Liz Friedman (Amherst, MA)

"Brian Bender was great! We were looking for Irish music for our cocktail our and a DJ for after dinner. Brian was able to provide both of those things! He provided a 3-piece Irish band and then he DJ'd the rest of the night. He was great and everybody danced the night away! We ended up hiring for an hour of overtime because everyone was having so much fun. Highly recommended."
 --Heather O'Rourke and Rich Laarhoven (Wellfleet, MA)

"Brian did a fantastic job at DJing our wedding. He was calm, easy to work with before and during the wedding, and kept the party going. He was really responsive to my finicky music demands! My favorite part is that he provided live jazz piano music during dinner, and it was an amazing performance that the guests loved! I would highly recommend Brian for your wedding DJ!"
--Kara Kowalczyk (West Brookfield, MA)

"We just wanted to thank you one more time for a great night filled with your band's great music. The band is amazing!!! And we're still hearing compliments about you as the "reviews" continue to pour in - people loved your music! We are passing on your name right and left and having fun ourselves imagining the next excuse to get you at a party. Thanks, too, for your support and accommodation as we attempted to navigate happiness for 13 to 75 year olds. Your partnership made the challenge as pleasant as it could be - and successful to boot!"
--Pamela Schwartz and Joel Harris (Northampton, MA)

"Brian was everything that my husband and I could've asked for in a DJ. He was professional, punctual, and most importantly he did a great job with the music selection. He was also able to provide a mic and amp for some live music during the ceremony, and played piano for us during the cocktail hour. We really appreciated having someone so multi-talented for our event. We gave Brian a smaller list of must-play songs, and with that outline he was able to fill in the gaps effectively with what the crowd was feeling. We didn't have to worry about the music all night. Our wedding was a huge success in no small part because of Brian, and we cannot recommend him enough."
--Alison and Dominic (Norhampton, MA)

"Brian did an excellent job at our wedding. We made a list of songs and he added in his own playlist as well as took song requests from friends and family. Brian was laid back and went along with all my last minute ideas, games, and shout-outs! Everyone had a blast!! It was such a fun wedding and we can't thank you enough!"
--Sarah Powell (Granby, MA)

"What do I like about DJ Brian Bender? Many things. Brian falls under the category of unobtrusive DJ, yet outgoing and friendly when needed to make an announcement or introduce the bridal party. He is also a gifted musician. I have seen him playing piano and singing at wedding cocktail hours, as well as playing keyboard and trombone with various bands at receptions. He is a music teacher and owns a recording studio. He loves music deeply and it shows. He has a friendly, warm, kind way about him. He listens to couples and guests alike. Because Brian is a musician, he also offers live music and a band for your wedding. And lastly, he has a very good sound system. A DJ can be the nicest and best in the world, but it means nothing if they have bad quality speakers. As a photographer, I notice these things, since I spend the night on the dance floor close to the speakers."
-- Elizabeth Solaka (Wedding Photographer)
            ElizabethSolaka.com

"We just wanted to thank you and your band for a wonderful day of music on Sunday. The songs at the ceremony were perfect, and set the mood just how we wanted. The hora set was great as well, and our only regret is that more people didn't stick around to boogie to the later stuff. The arc of the party didn't go exactly as planned, and we both really appreciated your calm and supportive guiding hand in managing things. Closing with "At Last" was a particularly classy move. We'll remember it for the rest of our lives."
--Michael Reifman and Rachel Goodman (Falls Village, CT)

"We really appreciated Brian's thoughtful presence! If you are looking to avoid an obnoxious DJ at your wedding, Brian is your person! Brian was open to the list of music that we compiled. He added when necessary to keep people dancing and he allowed us to make requests. Brian arrived the day of our wedding knowing just what to do for setup and was calm and confident. He was very adaptable to our needs and wishes. He was not just a DJ -- he set the tone for our wedding!"
--Jen Smith (Deerfield, MA)

"We hired DJ Brian for our wedding reception. My favorite thing about Brian is that he is an actual musician on top of just DJ. Played the piano live for our cocktail hour then switched to regular music for dinner and dancing. Brian did a great job mixing in the important moments/songs we had requested, while also taking requests from guests on the fly to keep the evening going. Very laid back but also professional, timely etc. Sound and light equipment was professional quality as well. Would certainly recommend. Thank you Brian!"
--Matthew Folkes (Northampton, MA)

"First of all, thank your band for the wonderful music at Michael and Amanda's wedding.  We loved every minute of it!  The music truly crossed the generations. What a wonderful gift the musicians have!  Thank you for sharing it with us."
--John and Susan Mayock, parents of the groom (Springfield, MA)

"Brian went above and beyond all of our expectations as a pianist and DJ at our wedding. He proactively reached out to us before hand, he coordinated the ceremony with the wedding planners,his sound system was audiophile quality. And he made it fun! He was flexible and fair when the reception went longer than planned. I haven't been to another reception where the guests were dancing from beginning to end, all age groups Brian had something to keep it going. I highly recommend Brian!"
--Brian Kennedy (Deerfield, MA)

"The band captured perfectly the narrative arc of our wedding: from the playful trombone announcement signalling that the groom is about to see the bride, to the solemn melodies as we circled one another under the chuppah, to the raucous 40 minute hora that brought all our guests--young and old--to their feet. Just thinking about the music now has brought back the joy of that day. Thank you!"
--Liz and Dan Sokolov (Saratoga Springs, NY)

"We are still smiling since our party last week. Thanks so much to you and your band for the wonderful music!"
-- Alice Swerzey (Chatham, NY)

"The Pangeans are AMAZING! We all love their music. Please thank the band for me. We hope to see them here again soon!"
--Dave Harlow, owner of Harlow's Pub (Peterborogh, NH)

"Brian, thank you SO MUCH for DJing at our wedding! You truly did a great job with everything, and also we loved your jazz piano playing during cocktails and dinner. We appreciate all of your hard work and flexibility with music and time frame throughout the evening, and also how responsive you were in our communications leading up to the wedding day."
--Heather and Peter Harrington (Falls Village, CT)

"It was perfect, exactly what I wanted and I know everyone else loved it. I can't believe I had such a rockin' band play at my wedding -- I must be the luckiest gal in the world!"
 --Kathryn Lively (Ware, MA)

"The band was incredible. They were exactly what we wanted for our wedding. Multiple people asked who they were. We got their CD and hope to see them again soon. It was an amazing night. Thank you for all of your help!"
--Ben Howard and Tiffany Abbott (Bennington, VT)

"You made our fundraising dinner a wonderfully lively evening. Much thanks to you and to your band."
--Riva Alper, Reuth Hospital Committee (Manhattan, NY)

"Thank you for the outstanding performance on Sunday. Please pass along my thanks to the band members. The highlight in the eyes of many was when my Dad was able to jam with you all. He absolutely loved doing it, and I think he wants to gig with you guys full time!"
--Sean Callery, who threw a birthday party for his 80-year old father (Seekonk, MA)

"THANK YOU!!!! for helping us have so much fun. Your music choices was just what we hoped it'd be,and your band's sound is fantastic!" You all contributed to a memorable, wonderful day in our lives.
--Patricia Bluestein (Boston, MA)
Shutesbury, Massachusetts