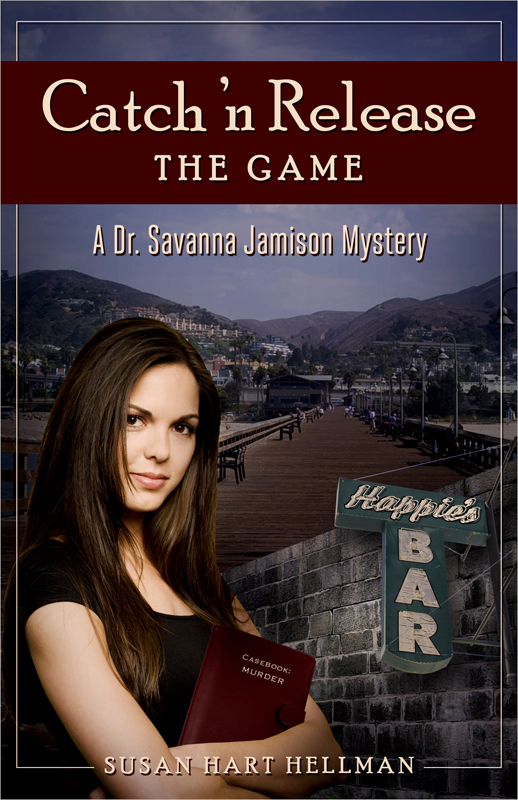 For several years, I've had the pleasure of working with author/writer Susan Hart Hellman.  She is based in California, and has contributed her talents through many wonderful articles for us here at RainbowWeddingNetwork Magazine.  Her editorial style is always highly informative, 100% accurate and she offers heartfelt insights as well.  Recently, she's completed a new novel; the first in an exciting mystery series, which interweaves marriage rights issues within the main storyline and features a compelling main character who is not your average lesbian!  Read on for more details!  And if you live near Ojai, certainly join the Launch Party on Dec. 9th!

CATCH  'N RELEASE:  THE GAME
When Dr. Savanna Jamison, Southern California behavioral neuropsychologist, defense witness, and unintentional sleuth, uses the insanity plea to help her public defender friend save a death row-bound, brain-damaged killer, Savanna is also as good as dead. She's targeted by the Mafioso drug-lord father of the victim, a socialite, who, along with her sorority sisters, has been playing a deadly new game. 
But CATCH  'N RELEASE: THE GAME, Susan Hart Hellman's first mystery series novel, tells another story too.  Throughout this series, Savanna's friends Michael & Al, partners for 27 years, wish to marry, but their plans are thwarted by ever-changing same-sex marriage legislation.  And Savanna finds love, Giovanna, a woman who catches Savanna's heart.

CATCH  'N RELEASE: THE GAME, now available at www.SusanHartHellman.com, through Amazon, or contact your local bookstore.  For more info, email Susan directly:  This email address is being protected from spambots. You need JavaScript enabled to view it.

BOOK LAUNCH PARTY, December 9 (1 :00 pm) at  Feast Bistro, 254 E. Ojai Ave. Ojai, CA 93023
(Also watch for Savanna's next case, Ring Master.)