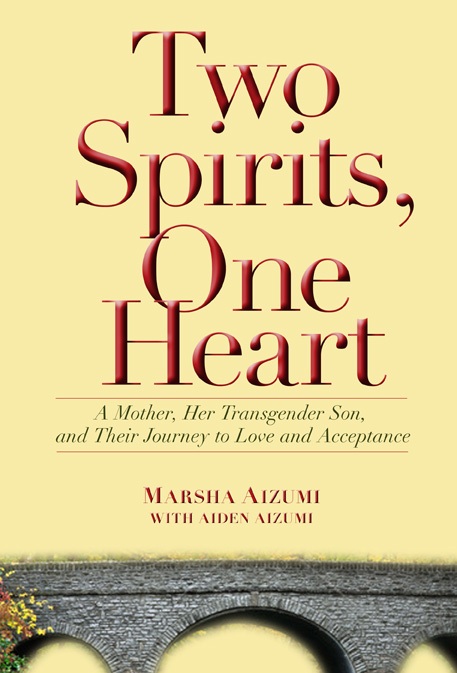 TWO SPIRITS, ONE HEART
A Mother, Her Transgender Son, and Their Journey to Love and Acceptance
A memoir by: Marsha Aizumi with Aiden Aizumi
"Marsha shares her journey from fear and uncertainty to acceptance, support, and unconditional love of Aiden as he reconciled his gender identity…I recommend their co-written memoir Two Spirits, One Heart."—George Takei
In the first book of its kind, mother, educator, and LGBT activist Marsha Aizumi shares her compelling story of parenting a young woman who came out as a lesbian, then transitioned to male. Two Spirits, One Heart chronicles Marsha's personal journey from fear, uncertainty, and sadness to eventual unconditional love, acceptance, and support of her child who struggled to reconcile his gender identity. Told with honesty and warmth, this book is a must-read for parents and loved ones of LGBT individuals everywhere.
"I love this book so much," says Magnus Books editorial director Don Weise. "When I first read the Two Spirits, One Heart, I was struck immediately by Marsha's honesty and unconditional love for her son. Despite all the challenges she saw along the way—and there were many, including some that put her to the test—her devotion to Aiden's well being never wavered. I also saw in her book a story being told for the first time, something I'd not heard much about before even in the LGBT media. Reading this memoir, I often thought about my own mother and parents of LGBT people everywhere, how essential Marsha and Aiden's story is for all of us to read."
Marsha Aizumi is an educator, motivational speaker, and advocate for the LGBT community. She serves on the National Board of Directors of Parents, Families, and Friends of Lesbians and Gays (PFLAG). You can visit Marsha online at www.marshaaizumi.com. Aiden Takeo Aizumi is a committed activist for LGBT rights. In 2010, he was honored as a youth leader with the Paul A. Anderson award from the National Gay and Lesbian Task Force. He currently serves on the PFLAG National Transgender Gender Non-conforming Advisory Council. Aiden is also pursuing a bachelor's degree in education.
_____________

"Marsha and Aiden's moving story of confronting and overcoming fear—and of the love and deeper bond that emerge between a mother and her son because of that profound journey—shows how all families can accept each other's humanity. I was deeply inspired by the honesty, awareness, and healing found in these pages."
—Rea Carey, Executive Director of the National Gay & Lesbian Task Force
_____________
Further info on ordering is available through the author's website: